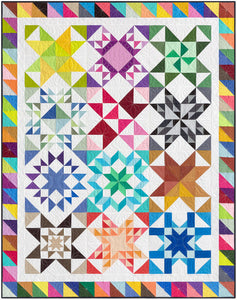 SIGN-UP * Kona Cotton Solids 2024 Calendar Block of the Month
Join me in making this wonderful sampler quilt using Kona Cotton Solids. 
Reserve your spot today with a $4.00 reservation fee that will be deducted from your first BOM installment invoice ($35.00 + shipping) in December. After that you will be invoiced $39 + shipping in February, April and June of 2024, for a total of $156. Reservation fee is not refundable.
Sign up before October 1st and receive the 2024 Calendar FREE! It will ship in December with your first installment. The calendar contains monthly, awe-inspiring quilts with the beautiful colors of Kona Cotton by Robert Kaufman Fabrics. The free Patterns for those can be found on the Robert Kaufman Fabrics website.
Kits will include fabric for 3 blocks with complete printed instructions. The last installment will also contain the finishing fabric and binding. Use the extra fabric from each month to make a scrappy outer border as shown. So, save those scraps! Backing is not included and is suggested, 4 2/3 yards.
Quilt finishes at 60" X 76"
---
Fabric comes in 1/2 yard Increments or Bundles, Example: (1= 1/2 yard) (2= 1yard) (3= 1 1/2 yards) etc. **** We Also Recommend ****