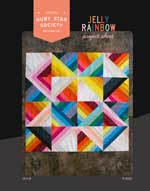 Jelly Rainbow Quilt Pattern Download
This is a free Digital download from Ruby Star Society for the Jelly Rainbow Pattern.  It features Rashida Coleman Hale's Speckled Fabric.   

All you need is a Jelly Roll and some binding to make this beautiful 54" X 54" lap quilt or add another Jelly Roll to make a 68" X 81" quilt.
After you receive notification of your purchase, you will get and email with the download. 
---
Fabric comes in 1/2 yard Increments or Bundles, Example: (1= 1/2 yard) (2= 1yard) (3= 1 1/2 yards) etc. **** We Also Recommend ****