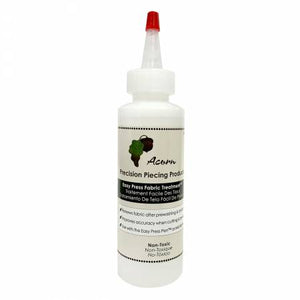 Acorn, Easy Press Fabric Treatment, 4 oz.
Save time while quilting and piece like an expert! Designed by Shelley and Bernie Tobisch, this highly-effective, proprietary solution makes it easy to create accurate, flat seams every time you quilt!
Use this fabulous formula in conjunction with the Easy Press Pen.
Seams are precise and flat. Accurate piecing. Easier quilting & applique. 4 oz.
---
Fabric comes in 1/2 yard Increments or Bundles, Example: (1= 1/2 yard) (2= 1yard) (3= 1 1/2 yards) etc. **** We Also Recommend ****