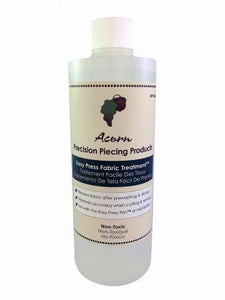 Acorn, Easy Press Fabric Treatment, 16 oz.
Improve accuracy when cutting and piecing your fabrics for your quilting projects.
Save time while quilting and piece like an expert! Designed by Shelley and Bernie Tobisch, this highly-effective, proprietary fabric treatment makes it easy to create accurate, flat seams every time you quilt or applique.
Great refill for Easy Press Pen.
---
Fabric comes in 1/2 yard Increments or Bundles, Example: (1= 1/2 yard) (2= 1yard) (3= 1 1/2 yards) etc. **** We Also Recommend ****