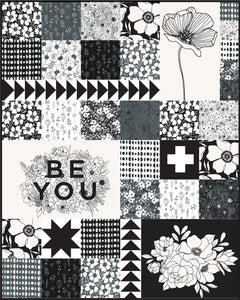 Illustrated Squares
You can never go wrong with the bold contrast of black and white. Alli Koch of Alli K Design has created her first fabric line with her signature style of handdrawn lines – Illustrations! Some of the prints were inspired by her hand-painted murals, like Be You, which was her first painted mural. Others were inspired by her favorite life lessons, like the moon phases that remind her to not stress about making a new phase better than the next, just as long as it is new.
Quilt finishes at 57" X 71.25"
Kit includes: Pattern, Fabric for top and binding. 
Not included: Suggested backing is 4 yards.
---
Fabric comes in 1/2 yard Increments or Bundles, Example: (1= 1/2 yard) (2= 1yard) (3= 1 1/2 yards) etc. **** We Also Recommend ****