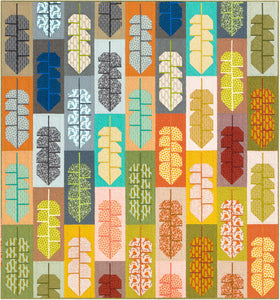 Leafy Quilt Kit
A colorful quilt kit designed by Elizabeth Hartman featuring her latest line called Adventure for Robert Kaufman Fabrics.
Kit includes the Pattern, beautiful 'Adventure' bundle plus binding, coordinating bundle of Essex Yarn Dyed fabrics, as well as a Roll-Up of coordinating Kona Cottons. 
Quilt finishes at 72" X 80"
Not included, is suggested backing of 5 yards.
---
Fabric comes in 1/2 yard Increments or Bundles, Example: (1= 1/2 yard) (2= 1yard) (3= 1 1/2 yards) etc. **** We Also Recommend ****