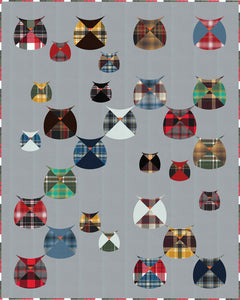 Mod Owls Flannel Quilt Kit
This kit if featuring the super soft Mammoth Flannel and Solid Flannel from Robert Kaufman Fabrics. Very fun pattern from Sew Kind of Wonderful. You will need both, the Quick Curve Ruler and Mini Quick Curve Ruler for this pattern. We have both available separately. 
Quilt finishes at 62" X 75"
Included: Flannel for top and binding is included along with the pattern.
Not Included: suggested backing is 4 1/2 yards. 
---
Fabric comes in 1/2 yard Increments or Bundles, Example: (1= 1/2 yard) (2= 1yard) (3= 1 1/2 yards) etc. **** We Also Recommend ****