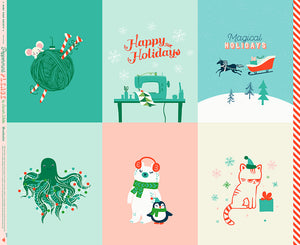 Peppermint Please Gift Panel
Price is per Panel.
Style Number: RS2041 11
Fabric Name:  Gift Bag Panel
Designed by: Sarah Watts, Ruby Star Society
Manufacturer: Moda Fabrics
Collection: Peppermint Please
100% Cotton    36" X  45" Panel

Each section is approximately 18" X 12.5"
Make your favorite tote or drawstring bag pattern to make reusable gift bags. 
Use the tag #peppermintpleasefabric #sarahwattspanel #rubystarsociety on Intstagram and follow the fun!
---
Fabric comes in 1/2 yard Increments or Bundles, Example: (1= 1/2 yard) (2= 1yard) (3= 1 1/2 yards) etc. **** We Also Recommend ****