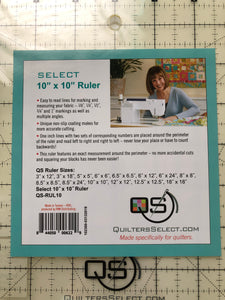 Quilter's Select 10 X 10 Inch Ruler
* Easy to read lines for marking and measuring your fabric - 1/8", ¼", ½" ¾" and 1" markings as well as multiple angles.
* Unique non-slip coating makes for more accurate cutting.
*One inch lines with two sets of corresponding numbers are placed around the perimeter of the ruler and read left to right and right to left – never lose your place or have to count backwards!
---
Fabric comes in 1/2 yard Increments or Bundles, Example: (1= 1/2 yard) (2= 1yard) (3= 1 1/2 yards) etc. **** We Also Recommend ****