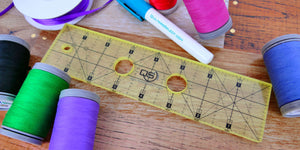 Quilter's Select 2" X 8" Machine Quilting Ruler
This first 2" x 8" ruler also has the non-slip coating that makes Quilters Select® Rulers a must-have for crafters everywhere, bringing a new level of precision to machine quilting! Never again will you have to worry about your rulers slipping as you guide your quilt and ruler through your machine. The new finger grip holds enhance your ease of placement and movement.
The small size of this 2" x 8" ruler makes it easy to hold onto while working, and its 6mm thickness makes it perfect for long arm machines!
Like all Quilters Select® products, this ruler is designed for both left- and right-handed quilters, with markings that can be read both ways. The ¼" vertical lines along the sides are ideal for straight line quilting, and the 45° and 60° angle lines open more creative possibilities than ever before!
Whether you need a machine quilting ruler for stitching in seams, echoing, crosshatching, parallel lines, geometric machine quilting, or border designs, the new Quilters Select® Precision Machine Quilting Ruler is a great addition to your craft room!
---
Fabric comes in 1/2 yard Increments or Bundles, Example: (1= 1/2 yard) (2= 1yard) (3= 1 1/2 yards) etc. **** We Also Recommend ****