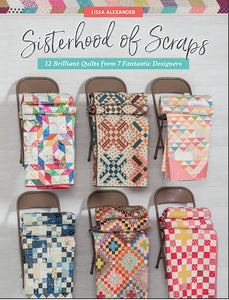 Sisterhood of Scraps
12 Brilliant Quilts from 7 Fantastic Designers!
What happens when famed quilt designer Lissa Alexander invites her quilting friends to create scrap quilts alongside her? Scrapalicious magic!
Lissa along with Susan Ache, Kim Brackett, Barbara Brackman, Sheryl Johnson, Sandy Klop, and Laurie Simpson created a dozen spectacular scrap quilts. From simple Four Patches to Trip Around the World to Log Cabin and more.
---
Fabric comes in 1/2 yard Increments or Bundles, Example: (1= 1/2 yard) (2= 1yard) (3= 1 1/2 yards) etc. **** We Also Recommend ****