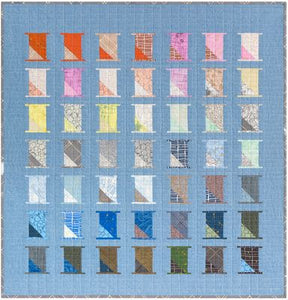 Spools Quilt Kit
Spools is a celebration of sewing. This project is a confident beginner, conventionally pieced project, although the pattern comes in 2 size options, this kit is for the 40" X 42" Wall hanging. Spools is great for beginner workshops, precuts and swaps.
Featuring Carolyn Friedlander's Collection CF and background using Essex Yarn Dyed, Homespun, Delft.
Kit includes: Pattern, Fabric for top and Binding.
Not Included: Suggested backing of 1 5/8 Yard.
---
Fabric comes in 1/2 yard Increments or Bundles, Example: (1= 1/2 yard) (2= 1yard) (3= 1 1/2 yards) etc. **** We Also Recommend ****